Ingredients :
40 ml Green Chartreuse
15 ml Falernum40 ml pineapple juice
20 ml lime
Ice cubes
Recipe :
Provide a mixing glass and a cocktail glass.
Cool the 2 glasses with ice.
In the mixing glass, pour 4cl of Chartreuse Verte, 1.5 cl of Falernum, 4 cl of Pineapple Juice and squeeze 2 cl of lime.
Mix vigorously.
Pour this mixture into the cocktail glass while straining it.
Decorate with a mint leaf.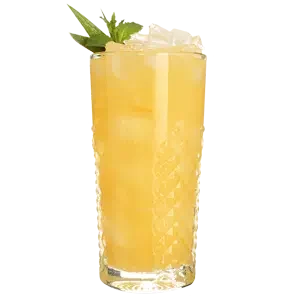 Chartreuse Swizzle © Stéphane Couchet